---
To receive your individualized product test report, first look for the Barcode printed on the side or bottom of your item. Next, enter the Serial Number under the bar code and press SUBMIT.
for test report demonstration, enter the below Serial No.
Serial Number : " 000500827328 " , " 101000829421 "


Online reports are available on the majority of KUTAI models and products; KUTAI adds test data daily to this folder, and Presently reports are available for models :
Generator Automatic Voltage Regulators (AVR)
ADVR-053
ADVR-054
ADVR-054-400Hz
ADVR-073
ADVR-08
ADVR-083
ADVR-12
ADVR-16
ADVR-16-400Hz
ADVR-2100M
ADVR-2200M
ADVR-250
ADVR-440
EA03A
EA04A
EA04C
EA05A
EA05AF
EA05A-B
EA05A-B-TC
EA05A-TC
EA05A-WG
EA06
EA07
EA08A
EA08A-WG
EA125-8
EA125-8T
EA15A
EA15A3H
EA16
EA230
EA232
EA341
EA350
EA350AUX
EA350EL
EA350UL
EA440
EA440-T
EA448
EA45AF
EA460
EA52
EA53
EA5K3
EA63-2.5
EA63-2.5S
EA63-4
EA63-5
EA63-5H
EA63-5P
EA63-7
EA63-7D
EA64-5
EAVR-5
ED35
EW05
IVT-1260
IVT-2460
PM300E
PM500
PM600
MCP-7-TH4
Automatic Transfer Switches
ATS-01
ATS-21
ATS-22
ATS-24
ATS-33
ATS-34
ATS-38
ATS-46
ATS-245
ATS-385
ATS-465
ATS-PLC
PTM-100
PTM-400
TC125-22
TC-V2
TS2P125
TS2P150-11
TS2P150-22
TS3P125
TS3P150-11
TS3P150-22
TS4P125
TS-IF
TS-IF-CMJD
Automatic Battery Chargers
CH3612
CH3624
CH4612
CH4624
Genset Controller and Automatic Mains Failure
AMF-10R
AMF-10
DSP-10
DSP-11
DSP-52
ECU-04
ECU-05
EC-01
EC-02
GC4K
GC4K-D07
GC4K-E
GCU-10
GCU-20
GCU-30
GCU-100
GCU-3000
KCU-04
CM-602
Electronic Governor Controllers
EG2000
EG3000
EG3002
EG4015
Remote Monitoring, Control and Annunciator System
KCU-01
KCU-02
KCU-03
KCU-04
KCU-05
KCU-30
KCU-50
RA-485
SMS-100
*If your product Serial Number is not recognized please call or email us your Serial number information and we will gladly send the original report to you.
---
KUTAI Barcode
With this app you can scan the barcode to view product test report or verify KUTAI product authenticity.
Compatibility: Requires iOS 6.0 or later. Compatible with iPhone, iPad, and iPod touch.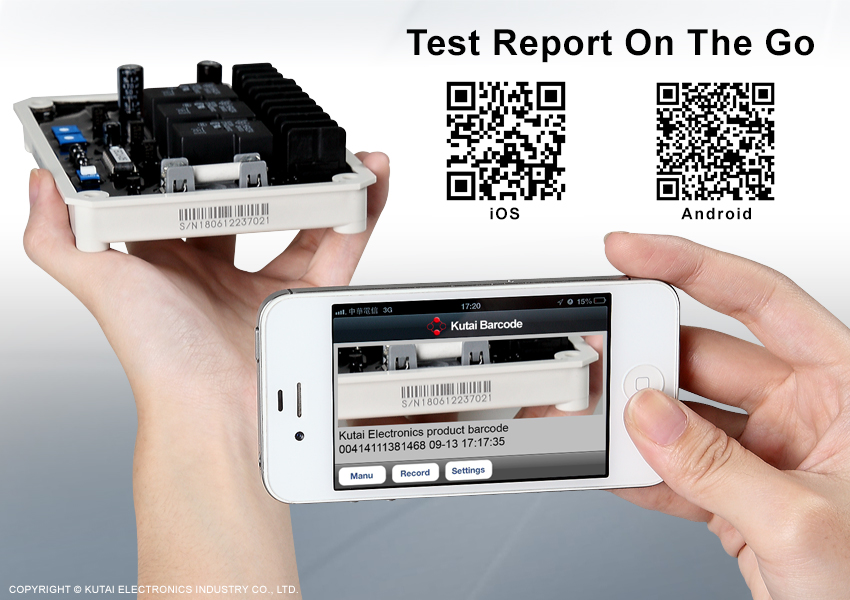 Note
Scan barcode or key in serial number manually.
All KUTAI products are printed with barcodes and serial numbers except for the one manufactured before the database is ready in year 2006.
Barcodes or serial numbers should never be identical. Kindly contact us if the product(s) on your hand has identical serial numbers.